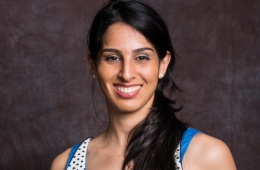 Tamara Sharifov, is a Licensed Social Worker (LSW) with over 5 years of experience working with psychological trauma and mental health. Tamara holds a Master's degree in Social Work from the University of Chicago School of Social Service Administration and a Bachelor's degree in Psychology from the University of California, Santa Barbara. Currently, Tamara works as a Dialectical Behavior Therapist (DBT) at the Emotion Management Program, LLC and is receiving extensive training on the principles of third wave behaviorism.
Under the auspices of EMP, she also works as a DBT therapist within a school Bridge Program where she provides therapy services to young adults facing emotional, behavioral, and learning difficulties as they navigate the complexities of earning a college degree.
Tamara's career and graduate studies have been dedicated to understanding post traumatic stress disorder, complex trauma and mental health. She has worked with adolescents and adults affected by community violence and trauma in a variety of settings. These settings include rape crisis centers, domestic violence shelters and services for adult mental health and for the chronically homeless.